Career
Kanya Vivah Sahyog Society (KVSS) is an equal opportunity employer and does not discriminate on the basic of caste, creed, religion, race, origin or gender.
We are a Non Government Organization (NGO) driven by some values and it is our endeavour to inculcate the same values in work employee.
All the staff joining KVSS are part of a big family who all are working together for a noble cause.
Current Openings
S No
Post Name
Qualification
Seats
Salary
Vacancy
Entrance Fee
Apply
1
State Coordinator
राज्य प्रबंधक
MBA, MCA, MA, MSc
1
25000 - 28000
Yes
985
Apply
2
Zone Coordinator
क्षेत्रीय प्रबंधक
MBA, MCA, MA, MSc, BCA
9
18000 - 22000
Yes
824
Apply
3
District Coordinator
जिला प्रबंधक
MBA, MCA, BCA, BBA, BSc, BA
38
15000 - 18000
Yes
684
Apply
4
Assistant District Coordinator
सहायक जिला प्रबंधक
MBA, BBA, BCA, BSc, BA
38
12000 - 15000
Yes
654
Apply
5
Counselor
काउंसलर
BBA, BCA, BSc, BA
47
5500 - 7500
Yes
627
Apply
6
Computer Operator
कंप्यूटर ऑपरेटर
BCA, PGDCA, DCA or Equivalent
47
5000 - 7000
Yes
576
Apply
7
Block Coordinator
प्रखंड प्रबंधक
BBA, BCA, BSc, BA
534
10000 - 12000
Yes
570
Apply
8
Panchayat Coordinator
पंचायत प्रबंधक
BBA, BSc, BA, ISc, IA, X
8471
4000 - 12000
Yes
475
Apply
9
Ward Teacher
वार्ड टीचर
B.Ed, Dl.Ed, B.A, I.Sc., X
42354
1500 - 5200
Yes
425
Apply
Note: Bonus / Incentive Applicable *
Current Opening Advertisement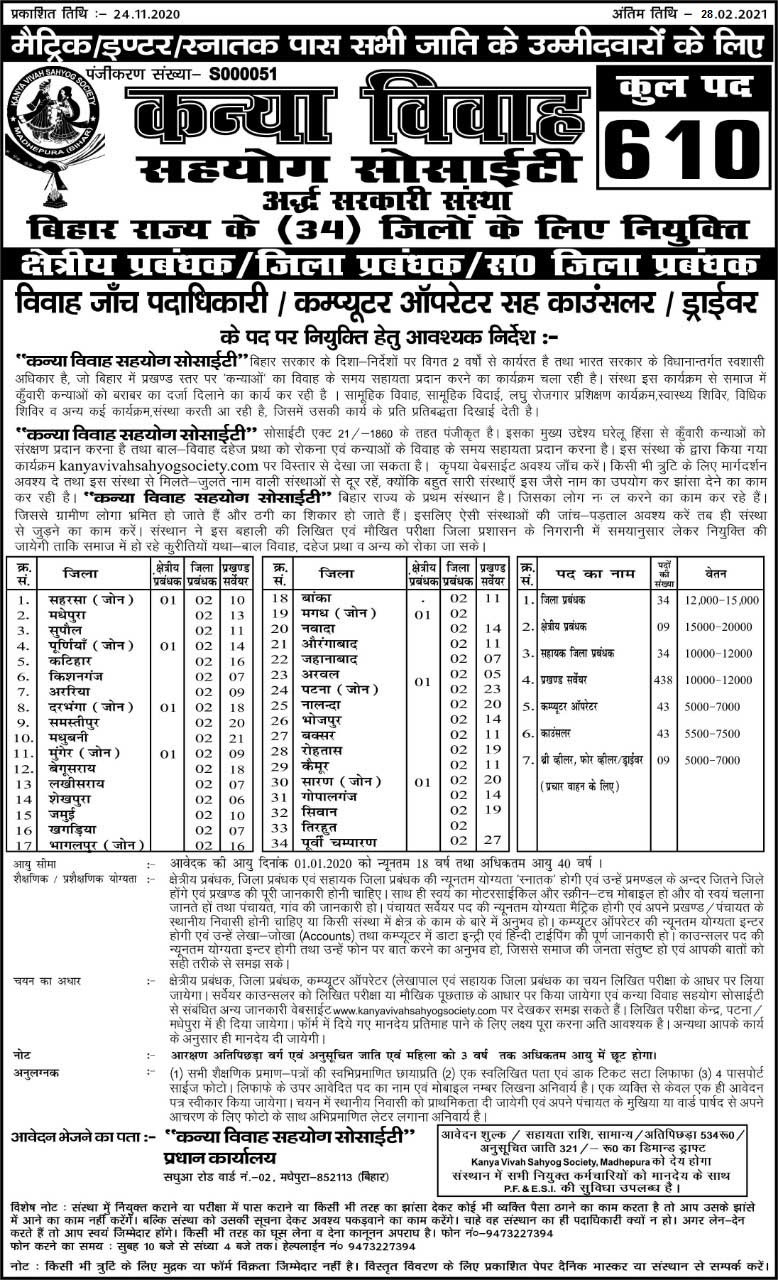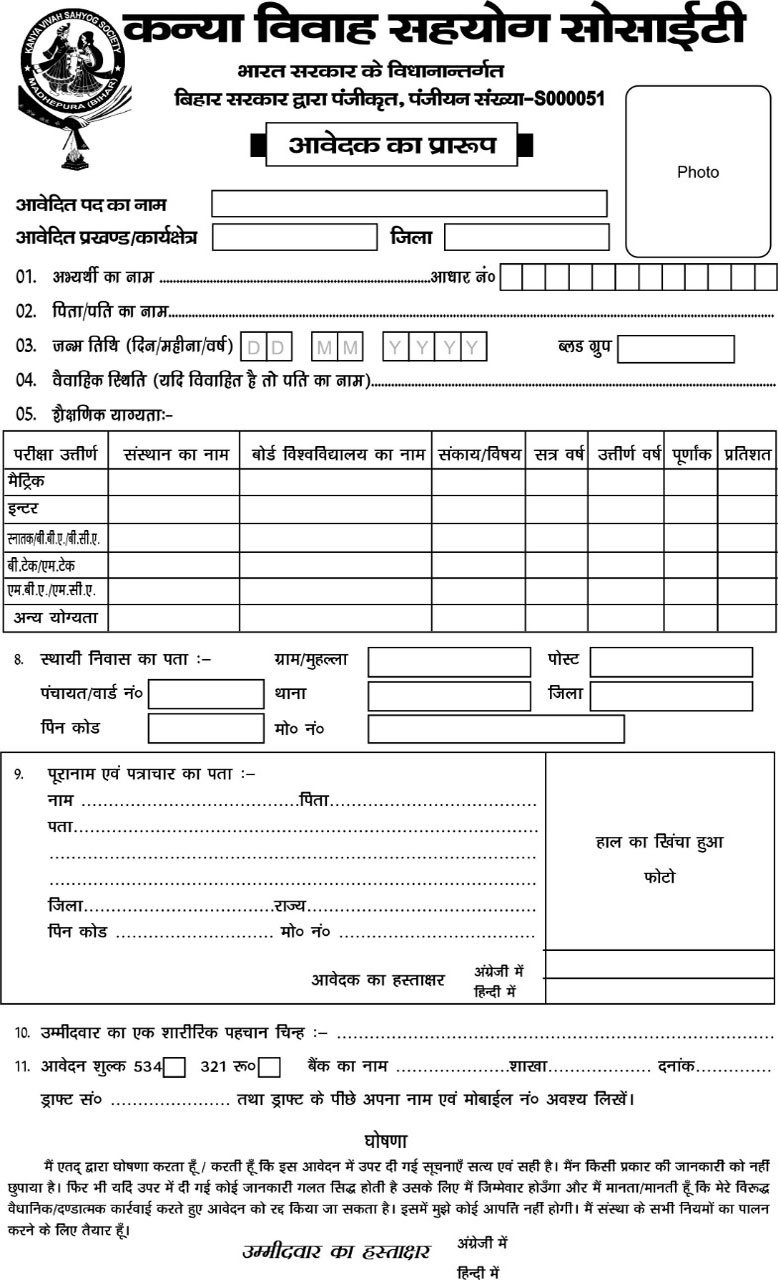 Selection Process
Steps in Selection

1

Registration
Register Online and User Id and Password will be generated

2

Pay
Payment of requisite fee

3

Admit Card
Download Admit Card and carry the Admit Card in Exam Room

4

Online Test
Bring your Android Mobile at Exam Site for MCQ Exam and Give Online Test

5

Interview
Candidates will be called for the Interview.

6

Selection
Successful Candidates will be selected based on performance and willl be given Offer

7

Wallet Recharge
Selected Candidates will have to get their wallet charged for the first time from Head Office

8

Authorization
Candidates will get their authorization letter to carry out the functions of organization.

9

Id Card
Candidates will get their Identity Card

10

Joining Agreement
Successful Candidates will submit their final documents and sign agreement with the Society.
Interested candidates will have to apply online for the above positions.
Application will be considered complete only after receipt of entrance fee.
Admit card will be made available one week before the examination. Candidate will download the admit card and will carry the admit card to the examination site. User Id and Password will be printed on Admit Card.
Candidate will have to carry his / her android mobile at the examination site for giving online examination.
Online entrance examination will be multiple choice question (MCQ) type
First selection list / merit list will be declared within a week of the examination. It will be communicated to the candidate by email as well as it will be displayed on our Website.
Every candidate will have to go through personal interview followed by that final selection list will be made.
Documents Required at Joining
1. Photocopy Aadhar Card
2. 4 Photographs
3. Photocopy of all marksheets from matric to final exam
Note: Candidate will have to produce all original certificates at the time of joining